Virtual Organizing – Convenient, hourly online sessions, structured for success!
Virtual Organizing – Convenient, hourly online sessions, structured for success!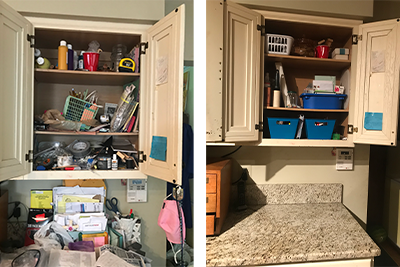 Hitting a wall with organizing on your own?
Looking for an organizing plan and help implementing it?
Need some motivation to get started and accountability to finish?
Want to learn new organizing skills and put them into practice?
Like the idea of shorter sessions at convenient times?
Comfortable using technology (Zoom, FaceTime)?
If so…
Virtual Organizing is a great way to get the expertise, encouragement and coaching of a professional organizer on a time frame and budget that works for you. It is a collaborative process that keeps you focused on an Action Plan, with shorter, more frequent online sessions that promote skill transfer and long-term organizing success. Communication between sessions keeps you motivated and accountable, and post-session tasks move you closer to your goals.
Schedule a free phone consultation followed by a video chat to learn how Virtual Organizing can work for you!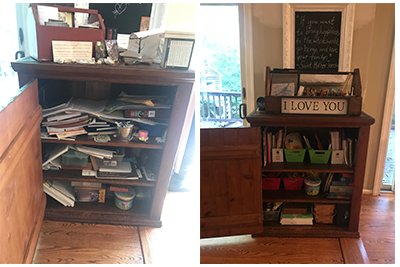 The virtual organizing sessions were a total success! Accountability is a huge factor.  Setting aside an hour at a time to work together on my organizing projects was convenient and fun, and I accomplished a lot. Theresa is such a great cheerleader, extremely patient and always offering positive reinforcement.  -Mom of many, MD
The virtual sessions exceeded my expectations. They were super helpful and actually, very fun.  It was more than a success – it was a game changer! The best things about Virtual Organizing sessions are the accountability and motivation they provide, as well as the flexibility to work for an hour at a time when it was convenient for me. I loved Theresa's enthusiasm and positive encouragement; she helped me think about things in a different way and gave me hope. -Homeschool Mom
Being technologically challenged I was hesitant to work virtually and was not convinced of the effectiveness of this new method. Theresa was able to guide me efficiently and we accomplished so much in a short amount of time. With her experience, Theresa was able to ask the right questions, and her keen eye was able to quickly arrange areas to meet my needs. I can't wait to work with her again! – C.G.
Contact Organized to a T and start simplifying your spaces!
(908) 812-4882